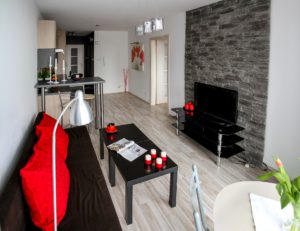 You know you need homeowner insurance, but if you're renting your home or apartment, do you need renters insurance? Like with many other types of insurance, it isn't always a requirement to get renters insurance, but you'll be happy you did if disaster strikes.
Why get renters insurance?
If you're renting an apartment, your landlord's insurance only covers the building. If your neighbor burns dinner and starts a fire in the building or if an old pipe bursts and ruins all your furniture, your landlord's insurance only covers the apartment itself, not all your belongings inside. Likewise, if your neighbor leaves a door unlocked or someone breaks down the door and robs your apartment, you will be out of luck if you don't have renters insurance. If your furniture, TVs, electronics, and clothes get ruined or stolen, you're looking at thousands of dollars to replace everything! If you have renters insurance, you will be covered and you don't have to worry if the worst happens.
Renters insurance coverage
Renters insurance covers three main areas: coverage for personal belongings, liability protection, and additional living expenses. The average cost of renters insurance is under $200 per year, and it protects against loss or damage due to hurricanes, fires, theft, explosions, and more. Renters insurance also covers you if a guest gets injured in your apartment due to an accident or because of a pet. Renters insurance does not cover flood or earthquake damage, but you can add coverage for those events if you think you need it. You can also purchase an umbrella policy to cover everything you think you will need beyond renters insurance.
Renters insurance comes in two forms: replacement cost or actual value cost. Replacement cost will cover the cost of full replacement, which makes it more expensive, and actual value cost will consider the depreciation of your belongings. You can also add on more coverage for very expensive items, such as jewelry or antiques.
So, do you need renters insurance? In short: yes, if you don't want to lose thousands of dollars in the event of a disaster. Some landlords do require you to purchase renters insurance anyway. Renters insurance is a low cost to protect your valuables. If you're interested in purchasing renters insurance, contact us today to go over your many options.